What Lies Ahead For Xeris Biopharma In 2022
Now that Xeris has completed the acquisition of Strongbridge and Q3 earnings have been released, I believe there is sufficient information to look at what investors can expect in 2022.
First, some key points of the acquisition of Strongbridge for new investors. On May 24, 2021, Xeris Pharmaceuticals announced an agreement to acquire Strongbridge Biopharma in an all stock and CVR transaction. At the time of the announcement Strongbridge had one marketed product, Keveyis and an NDA for Recorlev with a PDUFA date of Jan. 1, 2022. In 2020 revenue for Keveyis was $30.7MM and revenue for 2021 is projected to be $38-40MM. The acquisition also is projected to add ~$50MM in pre-tax synergies by the end of 2022 and provides Xeris Biopharma with an estimated ~$100MM  in cash and cash-equivalents for year-end 2021. The infographic about the transaction can be found here.
Now let's have a look at what to expect in 2022.
---
Future Products and Pipeline
Recorlev – The most impactful catalyst for Xeris is the upcoming PDUFA date of Jan. 1, 2022, for Recorlev. Why is it so impactful? Well, with a "$2B+ total addressable annual market"(Nov. 2021 Corp Presentation), Recorlev revenues can easily surpass that of Gvoke and Keveyis combined, within 1-2 years. This is a major step in becoming cashflow positive by 2023. One thing to note about Recorlev approval is that Xeris "expect(s) that we will require additional capital to commercialize Recorlev if it is ultimately approved for marketing by the FDA, EMA or any comparable foreign regulatory agency"(10Q-Q32021). How Xeris Biopharma plans on acquiring that additional capital if Recorlev is approved, is unknown, but investors should not be caught off guard if there is a public or private offering to raise this capital.
Levothyroxine (XP-8121) – Xeris Biopharma announced the acceptance of its IND application for Levothyroxine, a treatment for Hypothyroidism and one of the most prescribed drugs in the U.S., on Aug. 11, 2021. Xeris believes that weekly subcutaneous injections can mitigate many of the challenges associated with oral formulations. They completed enrollment of the Phase 1 study on Sept. 1, 2021, and "expect results from the Phase 1 study in the first half of 2022"(Q3 ER Call). Levothyroxine was given a $1-2B opportunity for the U.S. market.
Exercise-Induced Hypoglycemia (EIH) – Xeris plans to "submit an IND in the first quarter of 2022"(Q3 ER Call). They have already completed a Phase 1 and Phase 2 study of EIH, but after receiving feedback from the FDA earlier in 2021 they decided to do an additional Phase 2 study on a broader range of Type 1 and Type 2 patients that exercise at least twice a week. 
Merck Collaboration – "In October, we announced the collaboration agreement with Merck, with an option to license our sub suspension-based formulation technology, XeriJect, for use with undisclosed monoclonal antibodies for the purpose of engineering ultra-high concentration, ready-to-use formulations"(Q3 ER Call). As most people are aware, monoclonal antibodies have taken a spotlight during the Covid-19 pandemic. These mAb treatments for Covid-19 are administered IV infusion and typically take ~30 mins, but if these mAbs are able to be suspended in a XeriJect formulation, administration would be a simple quick injection and would not require IV infusion. There is no evidence that Merck is looking to use XeriJect for Covid-10 mAbs, but the potential is there and one that would be very promising for Xeris' XeriJect technology. As for timeline with the Merck collaboration, Paul stated on the Q3 earnings call that "the first piece of the collaboration is the feasibility piece" and to "achieve a certain level of stability over some period of time", with Paul noting that "historically that evaluation period has been anywhere from a year to 18 months". So we might not see much news in 2022 with regards to the Merck collaboration, but don't forget that Xeris has "3 active projects with Top 10 pharma companies" (Sept 2021 Corporate Presentation).
XP-9164 (Gastroenterology) – Not much is known about this program but one could expect more information on this program being released in 2022.
---
Current Marketed Products
Gvoke – Gvoke sales continue to grow with a net sales increase of ~114% versus the nine months ended Sept. 30, 2020 and an average weekly % change of 3.87%. XerisDD tracks the weekly TRx for Gvoke and currently project ~3500 weekly TRxs by year-end 2022. At 3500 weekly TRx's one can expect quarterly Gvoke revenues of ~$16.6MM (based off $395 per TRx) from Gvoke alone. Xeris also announced approval of Gvoke Kit for Hypoglycemia and expects to begin selling the Gvoke Kit early in the first quarter of 2022. This means Xeris will offer three different administration options for Gvoke – Gvoke HypoPen, Gvoke PFS, and Gvoke Kit.
Ogluo – Xeris partnered with Tetris Pharma to sale Ogluo in the UK. Under the agreement Xeris is eligible for $71MM in payments tied to the first commercial sale and other time-, launch- and sales-related milestones. First launch for Ogluo in the UK is expected in Q4 2021. I don't expected Ogluo sales to have a significant impact on revenue until the second half of 2022, and the $71MM in payments are expected over the next couple of years if Xeris meets the milestones in the agreement.
Keveyis – Keveyis was commercially launched by Strongbridge in April 2017 and has a compound annual growth rate, or CAGR, of 40-42% since 2017. Keveyis' patent is set to expire on Aug. 27, 2022, which could negatively affect sales revenue due to potential generics. Xeris is "still prosecuting and appealing and going through the process with the Patent Examiner's Office"(Q3 ER Call), to protect the IP of Keveyis in hopes of extending the patent and exclusivity Keveyis. There should be a decision made on whether to extend the Keveyis patent by Aug. 27, 2022.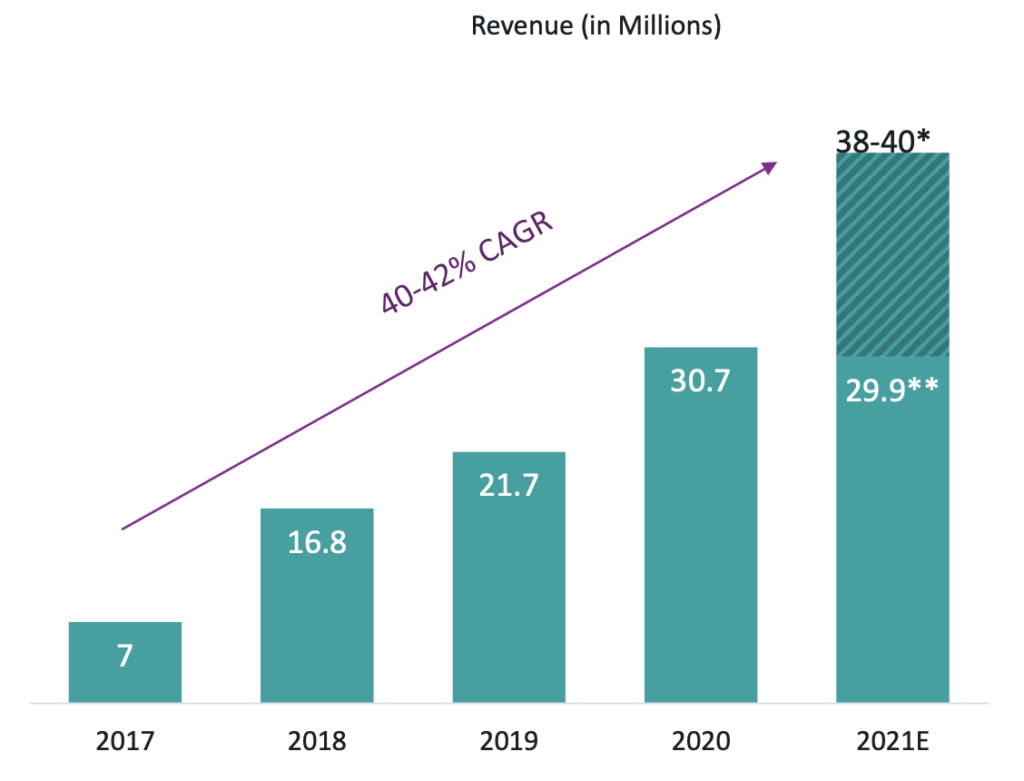 ---
Out-Licensing Candidates
Diazepam & Pramlintide-Insulin – Xeris is still searching for out-licensing partners for Diazepam and Pramlintide-Insulin. There is no way to predict when or if Xeris will find an out-licensing partner for either product, but it's something that investors should not forget about.
---
Disclosure: I/we have a beneficial long position in the shares of XERS either through stock ownership, options, or other derivatives. I wrote this article myself, and it expresses my own opinions. I am not receiving compensation for it and I have no business relationship with any company whose stock is mentioned in this article.